So I want my hair to grow out to my shoulders before my graduation in May. I have decided to partake in a bunning challenge with little to no heat. I will have a couple heat passes for special occasions. My hair has grown pretty well from just washing and flat ironing once a week but I feel I could retain length better by just bunning.
Basically I will be washing and deep conditioning once a week and bunning my hair everyday. I was doing this before but using heat then bunning. I might flat iron the roots on the sections that you can see my roots but that is about it. Here is where I came from: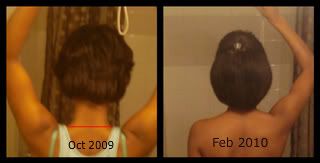 Here is where I want to be by May:
Wish me luck ladies!